Jennywooz
Character Information
| | |
| --- | --- |
| Gender: | Female |
| Also known as: | Jennifer |
| Status: | Married |
| Age: | unknown |
| Friends: | Maxwooz, Myawooz, Jaywooz, Goodoldwooz, Zackwooz |
| Enemies: | Zeenawooz, Kountvonbot |
| Occupation: | WW Animator |
| First Appearance: | 2010 |
| Preztige: | 50 |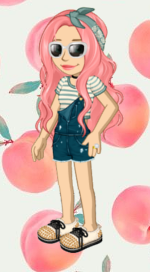 JennyWooz is an Administrator on Woozworld, she first joined in 2010. She alongside JayWooz, MyaWooz, and MaxWooz are the four main animators/event hosts of Woozworld.
Eventz Hosted
Edit
Book Club - - Former Eventz, hosted until circa 2014
Chat Room - Most Thursdays
Woopetz Of the Week - Saturdays
Personality
Edit
Jenny is widely known as being very kind and friendly. She loves cute things and tasty things. She is sweet, caring and brave as shown in various events.
Jenny married Max, then divorced over him replacing her with a cactus farm and later got back together.
JennyWooz Has Played Longer than MyaWooz, but shorter than JayWooz. In an older 2010 WoozPaper, she debuts when Jay introduces her.
She is one of 4 Woozband confirmed to go by a nickname, as her first name is confirmed by ZackWooz to be "Jennifer". The other person is LilyWooz, whose first name is confirmed by Professor Preztige as "Liliana". Later it is known that MaxWooz's name is "Maximilian" and ZackWooz's name is "Zackary".
She is a Taurus. Her birthday is sometimes said to be in late April, but in later years, said to be early May. As of 2015, it is confirmed she was born April 27th even though sometimes she celebrates her party in May to coincide with being on the weekend.