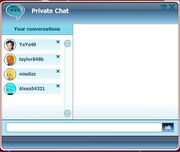 Private chat (a.k.a PC) is the instant messaging tool of woozworld. Sometimes woozens use it to say something private. They are quicker to send than actual messages, but they don't last forever, disappearing after your Woozen logs out.
"Come join the Party!"
This article is a stub. Please help the Woozworld Wiki by expanding it.
Thank you!