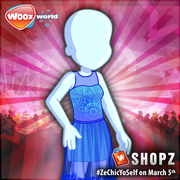 Shopz, added circa 2014, was a tool to purchase Wooz and Beex items without leaving your current unitz. It is not to be confused with Marketplace, where the items are owned by Woozens. Prior to Shopz, there was ZeChic (2010-2012). After ZeChic phased out, there was a short hiatus without any shopping tools, until its addition.
Shopz Eventz
Edit
In 2014, there was a week-long event of 24-hour sales. A new item would be sold in Shopz for 24hrs and would most likely never be sold again, although some have been, as these items are not Unikz.
In 2015, there were 2 events where Woozens requested what clothing items should be brought back for the whole week. There were 15 items for boys and 15 for girls. Any rare item can be requested except the deadmau5 collection, the Bratz collection, and Unikz. Bundles were also added later that year.
In June 2016, Shopz was redesigned to add "favourite" items before buying them, much like a wish list.
Every week, there are uncommon-to-rare clothes and furniture sold at a low price for Wacky Wednesday.
In 2014, "Shopz" was referenced in the "Pretty Little Mystery" Eventz when the character Mr. Shopz was introduced, along with many teachers with surnames related to Woozworld. He was a burly and competitive gym coach. This is the only reference to Shopz that isn't directly associated with the tool.
Gifting was introduced in 2015 where Woozens can purchase items for friends with Wooz regardless of their VIP status or Preztige level.